The air is getting cooler, and the water levels are getting lower. It's that time of the year everybody – winter is coming! If you're like us, you're not interested in river rafting in near-freezing waters. Most of us have set aside our summer rafting gear and started getting those skis or snowboards out to get tuned, edged, and waxed. With all the excitement for winter sports, don't forget about those summer rafts and kayaks you've spent good hard-earned money on that need winter protection. The last thing anyone wants is to find their summer gear next season and wonder why the air keeps leaking, all because they didn't protect them from the freezing winter conditions. We'll walk you through some easy steps to protect those toys so when it starts warming up again, they are ready for you to take out and adventure under the warm sun.
Image courtesy of Hide-Away Storage
Most whitewater rafts are built durable enough to handle raging whitewater, boulder-strewn rivers, and sharp cliffs, but the cold takes a different approach to wear through your gear. The blistering cold and moisture build-up, along with other winter elements, can slowly weaken any materials they can get their hands on. This can lead to warped seals and broken parts. Winterizing precautions will protect them from these effects and make sure they last as long as possible. This way, you can feel confident when the warm weather rolls around to drop that raft in the river or paddle safely on the lake, without the worry of having to swim back to shore. Because as we all know, it doesn't matter what time of year it is, that snow runoff water is still very cold. It's a good thing that the process to protect your rafting gear is simple and doesn't take much time at all.
Image courtesy of samflanagan.co
First, make sure to clean the surfaces with an inflatable boat cleaner before winter arrives. Let the cleaner sit for a minute then scrub with either a brush or sponge, gently. Check for any build-up and clean properly, you don't want that sitting during the winter. Things such as mold buildup or gunk left unattended can cause more damage over time. Make sure to clean inside and outside thoroughly. Don't forget, while inflated, to flip it over and get that underbelly too. Make sure to also inspect the bottom for any scratches, dings, or holes. Once cleaned, coat the entire boat with a UV protectant. Worn ropes or bungee cords should be replaced. Check for sun damage and replace damaged necessary river gear before storing them away. Then just deflate, roll it up, and store it inside a dry place, avoiding direct sunlight. A garage or shed would suffice. Just make sure your toys are out of the elements and off the ground, we wouldn't want any critters building a home in them – this happens more than you think.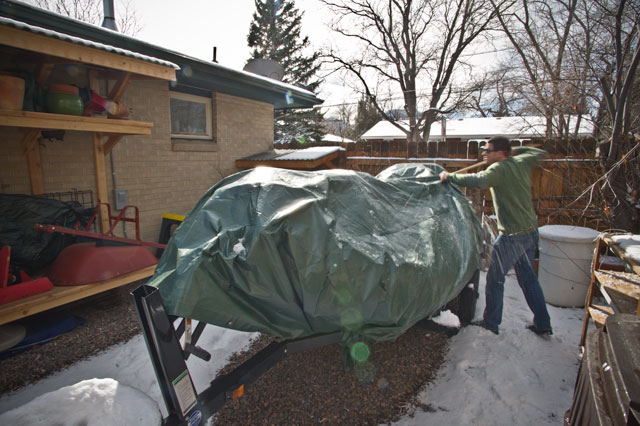 Image courtesy of MidCurrent
Remember, modern river gear is very durable, but can age quickly. It's probably one of the largest investments in recreational equipment we make. So, set aside a weekend, pick yourself up some beer, and get your playlist ready to make sure your toys are safe from the winter ahead. Doing so will greatly extend their lifetime.